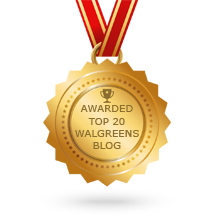 Check out Getting Started at Walgreens if you've never shopped there before. Walgreens is making changes to their Rewards program and I haven't updated the Getting Started at Walgreens post yet.  Read HERE about the Rewards Program changes.

It's time to starting thinking about Black Friday sales at the drug stores.  I hope we're going to see some of the same freebies and hot deals we've had in past years.
The strategy for shopping the Black Friday sales is to already have rewards to spend that you earned in the weeks leading up to Black Friday.  Then you can pay little to nothing for the items and rake in all the rewards from them.  Which means you have more to spend in the following weeks as well.
This is called "rolling your rewards" when you continually use your rewards to pay for items that will give you more rewards.
Best Walgreens Deals
Get a coupon for $5 off a $20+ purchase on eligible items in-store the day of your flu shot – even if your flu shot is free with your insurance.
$4 RR wyb (3) select Crest or Oral-B Dental Care Product
Buy (3) Crest Whitening Toothpaste with a Touch of Scope 4.6 oz @ $3.00 each
use $5/3 Crest or Oral-B Walgreens digital coupon
pay $4 and get $4 RR back
= 3 for FREE!
$4 RR wyb (2) Revlon or Almay Cosmetics
Buy (2) Revlon ColorStay 16 hour eye shadow @ $5.19 & BOGO50% off
use $2/1 Revlon Eye Cosmetics Walgreens digital coupon (limit 1)
pay $5.78 and get $4 RR back
=$1.78 for 2 – $.89 each!
$2 RR wyb (2) BIC Razors or Razor Systems @ $5.99 each
Use $4/1 BIC Razor Walgreens digital coupon
AND use $3/1 BIC Razors printable coupon
pay $4.98 and get $2 RR back
=$2.98 for 2 – $1.49 each