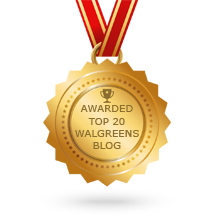 Check out Getting Started at Walgreens if you've never shopped there before. Walgreens made changes t0 their Rewards program and I haven't updated the Getting Started at Walgreens post yet.  Read HERE about the Rewards Program changes. 

Walgreens has the NEW myWalgreens Rewards. The old Balance Rewards Program expired January 31, 2021.
It looks like Register Rewards (RR) are still hanging around.  These will print at the register after your purchase.  RR will only issue on in-store purchases.
Be sure to pick up the monthly in-store coupon book.  Don't forget that the coupons inside are STORE coupons!  You can also  clip these coupons to your Walgreens Rewards card. *When I mention a digital coupon in the deals below, I can't link to the specific coupon.  You will have to search the coupons in your Walgreens app or account online to clip them.
Read about why you should get at least TWO copies of the Sunday newspaper with coupons.
Walgreens is a little underwhelming this week as far as Black Friday weeks go.  There's a few deals, but nothing near the freebies we are used to getting this week.
Best Walgreens Deals
$4 W Cash Rewards wyb (2) select Colgate toothpaste products @ $3.99 each
$2/1 Colgate toothpaste product Walgreens Digital Coupon
pay $3.98 and get $4 W Cash back
=FREE!
Russel Stover Holiday Single Serve Candy – 4/$2.00
=$.50 each wyb 4
$4 RR wyb (2) select Crest or Oral-B Products @ 2/$8.00
$3/2 Crest toothpaste Walgreens Digital Coupon
pay $5 and get $4 RR back
=$1 for 2 – $.50 each!
Mars Single-Serve Candy – $.88
$.25 cash back from Ibotta wyb Snickers Peanut Brownie
=$.63
$1 RR wyb Purell Hand Sanitizer @ $2.99
$1/1 Purel Hand Sanitizer Walgreens Digital Coupon
pay $1.99 and get $1 RR back
=$.99
$5 RR wyb $10 worth of select personal care items
buy (2) Secret or Old Spice Deodorant @ 2/$7.00
buy (1) Crest or Oral-B dental care product @ $3.00
use $2/1 Cres or Oral B Walgreens Digital Coupon (limit 1)
pay $8 and get $5 RR back
=$3 for 3 items – $1 each!
AXE Deodorant – $5.29 & BOGO50%
=$7.93 for 2 after BOGO50%
$2.50 off any TWO (2) Axe Deodorant Sticks or Body Spray (excludes twin packs, trial and travel sizes)
OR $2/2 AXE deodorant sticks Walgreens Digital Coupon
=pay as low as $5.43
redeem x2 $1 cash back from Ibotta when you buy AXE
=$3.43 for 2 – $1.72 each

$5 W Cash wyb  (3) Pantene Hair Care Products @ 3/$15.00
$4/3 Pantene products Walgreens Digital Coupon
pay $11 and get $5 W Cash
=$6 for 3 – just $2 each!