Here are the best of the best deals at Walgreens this week.  The ones you don't want to miss.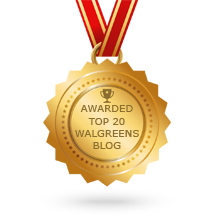 If you need a reminder on how to redeem RR you can read up on them in Getting Started at Walgreens.  But the biggest things to remember when redeem is that you can't use your RR to pay for the same RR deal again and it counts as a manufacturer coupon and you can't have more manufacturer coupons than you have items.
Check out Getting Started at Walgreens if you've never shopped there before.
Don't forget to sign up for the Balance Rewards Card to earn Balance Reward Points (BRP) – all prices require card.  Don't forget that you earn EVERYDAY points on your purchases too.  10 points per dollar spent.  (every 10 points is worth $.01 in redemption)  Everyday points are not factored into the final prices below unless specified.  Be sure to read the changes that just happened to your Balance Rewards Points at Walgreens.

Register your Balance Rewards Card with the Beauty Enthusiast Club and receive 5,000 Bonus points ($5 reward) for every $50 spent on Beauty and Personal Care. PLUS, receive a 20x EveryDay Points digital coupon for signing up.
Be sure to pick up the monthly in-store coupon book.  Don't forget that the coupons inside are STORE coupons!
Best Walgreens Deals
10X Everyday Points when you spend $20 or more – in ad coupon
$5 RR wyb (2) select Crest or Oral-B toothbrushes or toothpaste @ $3.99 each
use (2) $2/1 Crest toothpaste 3oz+ from 10/27 P&G (exp 11/9)
pay $3.98 for 2 and get $5.00 RR back
=2 for FREE + $1.02 money maker!
Equal 100ct Sweetener packs – BOGO $1.99
$1.50/1 Equal product coupon from 9/8 RMN
=$.49 for 2 – $.25 each
Butterball Thin & Crispy Turkey Bacon 6oz – 2/$2.00
$.50 cash back from Ibotta when you purchase Butterball Turkey Bacon (x 2)
=$1.00 for 2 – $.50 each
Jell-O Gelatin or Instant Pudding – 2/$1.00
Swanson Chicken Broth – 2/$1.00
$4 RR wyb (2) select Colgate Toothpaste @ $3.99 each
use (2) $1 off Colgate Total, Optic White, Enamel Health, Essentials, or Sensitive toothpaste 3 oz+ from 11/3 SS
pay $5.98 for 2 and get $4 RR back
=$1.98 for 2 – $.99 each
Kleenex Facial Tissue 45ct or Wet Wipes 20-24ct – Buy One $1.99, Get One 50% off
=$2.98 for 2
use (2) $.50/1 Kleenex product printable coupon here and/or here
or (2) $.25/1 Kleenex product coupon from 10/6 SS
=as low as $1.98 for 2 – $.99 each
$3 RR wyb (2) Adult Robitussin 4oz or Advil Sinus Congestion & Pain 10ct
Buy (2)  Adult Robitussin 4oz and/or Advil Sinus Congestion & Pain 10ct @ $5.99 each
$3/1 Adult Robitussin Product coupons from 11/3 RMN (exp 11/10)
$3/1 Advil Respiratory Product coupons from 11/3 RMN (exp 11/10)
pay $5.98 for 2 and get $3 RR back
=$2.98 for 2 – $1.49 each
2000 BRP ($2) wyb (2) select Gillette Disposable Razors
Buy (2) Gillette disposable razors @ $6.99 each
use (2) $4/1 Gillette Disposable 2ct+ from 10/27 P&G or Walgreens eCoupon clip to your Balance Rewards card *
*you can use two insert coupons or one insert coupon and one digital coupon on the purchase of two
pay $5.98 and get 2000 BRP back
=$3.98 for 2 – $1.99 each