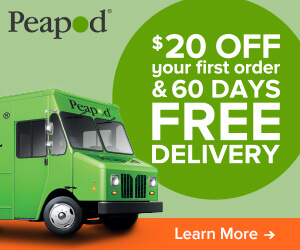 I've been wanting to try a grocery delivery service. But of course, I won't try anything if it's not a deal. This is a good one!
Get $20 Off Your First Order at Peapod. Free delivery for 60 days after you sign up. Use Promo Code: DP20FD Expires: 6/30/16
Plus, check out these other perks:
Peapod accepts valid manufacturer coupons. Peapod will double up to 99¢ per coupon unless otherwise specified on the coupon.
Save even more with exclusive online coupons. While shopping online, you'll see exclusive offers which'll be applied as you add these items to your cart.
Peapod shoppers will hand select your produce and meat, so you'll be sure to get good quality produce and meat with your order.
What are you waiting for?  Check out Peapod today!
Peapod grocery delivery is only available in select markets:
Chicagoland, Milwaukee, S.E. Wisconsin, Indianapolis
Connecticut, Massachusetts, Rhode Island, Southern New Hampshire
New York, New Jersey
Maryland, Virginia, Washington D.C.
Philadelphia, S.E. Pennsylvania, Central Pennsylvania