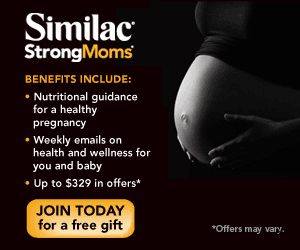 If you're having a baby you need to sign up for Similac StrongMoms!  They send tons of coupons and freebies for babies and new moms!
Join StrongMoms to receive guidance and support for pregnancy and beyond, plus up to $329* in savings. Whether you plan to breastfeed, supplement, or exclusively formula feed, StrongMoms can help you.
Join today for your 1st gift, a Shutterfly Pregnancy Photo Journal!  *Offers may vary.
Join Similac StrongMoms for free gifts and coupons.
Check out more in the BABY SAVINGS CATEGORY for more deals!