Are you caught up in the Beauty and the Beast craze?  I won't deny it – I am!  Have you shopped Kohl's new Disney Beauty and the Beast collection!   They have stuff for girls and juniors.  I know, what a bummer.  Why can't us grown women have some cute stuff too?
I did get this shirt.  I've bought several of these Disney tees from Kohl's in the Juniors section and they actually fit great.  Nice and loose.
Disney Juniors Beauty and the Beast Tee – on sale for $14.99
There are other tees available too so pick your favorite.
I also bought this dress today.  I know, total splurge.  But my son kept saying, "It's pretty on you, mama.  If you love it, you should get it."  What a little stinker he is.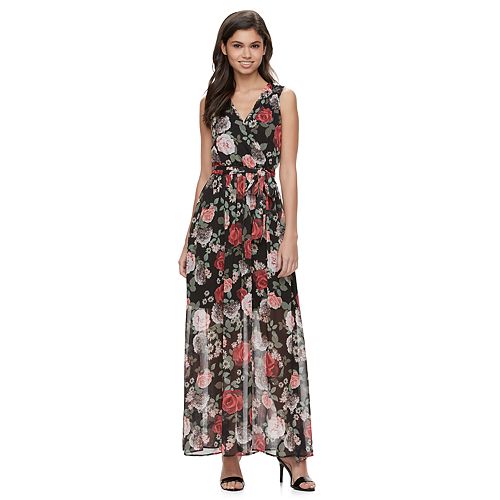 Disney Beauty and the Beast Junior's Floral Surplice Maxi Dress – on sale for $39.99 (regular price $58.00)  It would only be $29.99 after $10/$25 purchase code LUCKY.
Here are few other available items:
Don't forget you can use the $10/$25 purchase coupon!  Promo code LUCKY if you're shopping online.
Shop Kohl's now for great sales:
Save $10 off your purchase of $25 or more with code LUCKY
$10 in Kohl's Cash for every $50 spent (thru 3/12)
FREE4MAR for free shipping (Kohl's cardholders) (exp ??)
$10 off Intimates purchase of $40 or more with code INTIMATES10 (exp 3/16)