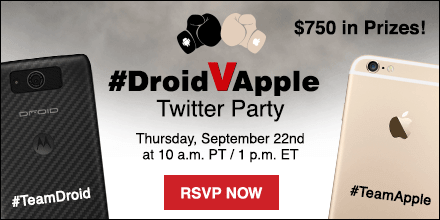 Are you #TeamDroid or #TeamApple?  Cast your vote HERE and don't miss the #DroidVApple Twitter Party, Thursday, September 22nd at 1:00 PM ET / 10:00 AM PT.  RSVP here for a chance at $750 in prizes!
I'm the kind of person who doesn't want the newest phone.  I'm always happy when the new phones come out so I can get one of the previous models at a discount!  Patience = savings!   I have wanted one of these
pretty iPhone 6s Plus phones
for a while now.