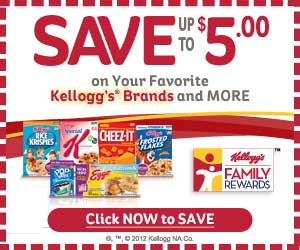 Get exclusive coupons and earn rewards from your favorite Kellogg's® brands with Kellogg's Family Rewards!
It's easy and free to sign up for Kellogg's Family Rewards™. Then you can enter codes, collect points, and earn awesome rewards and family fun! You'll also receive the latest and greatest benefits from Kellogg, like exclusive savings, great-tasting recipes, and special offers and promotions.
Here are two brand new codes!  (One expires today so hurry!) Remember, you need to add or redeem points every 90 days to not lose them!
STPATRICKSPOINTS  – 50 points (exp 3/31)
FREEPOINTSFORYOU – 100 points (exp 3/15)
And this one is still available through the end of the month if you haven't used it already!
SCOOBYSWEEPS4YOU – 50 points (exp 3/31)
Plus here are some other codes you can try if you haven't entered them already:
 TASTYWAYTOPOINTS  25 points

EVERYONELOVESKFR 100 points
KELLOGGSREWARDSU 100 points
KFRTHANKYOU50PTS 50 Points
MAGICOFBREAKFAST  20 points
EARNSWEETREWARDS  50 points
When entering codes that didn't come off products just click "Other" where it says "Where did you buy?"
Bonus Point Tip: Be sure to check your emails from KFR – they often contain Bonus Codes!  Last week I had a 500 point code in my email!