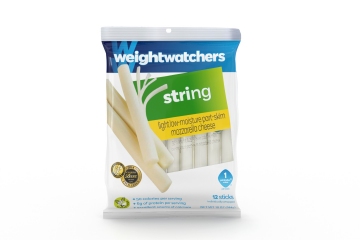 We love string cheese!  If you're looking for a healthy snack, look no farther than Weight Watchers String Cheeses!   And SAVE on it with this $.75 off any one Weight Watchers Cheese or Cream Cheese printable coupon!
Here are some ideas for your string cheese snacks!
Dippin' Sticks
If you love Italian food, heat up low-sodium marinara sauce and use it as a dip for Weight Watchers string cheese. This super-easy snack is a winner with kids and grown-ups, plus it's packed with protein and flavor.
Stack 'n Snack
For a fresh and fun on-the-go option, try these fun kabobs. Cut Weight Watchers cheddar cheese sticks into cubes and alternate with grapes on toothpicks or skewers. The simple combination of cheese and fruit is healthful and super-satisfying!
Cheesy Stuffed Peppers
The next time you're entertaining, think beyond basic cheese and crackers. Slice open mini tri-colored sweet bell peppers and remove the seeds. Fill with half a Weight Watchers jalapeno string cheese and broil for 10 minutes. The hot, melted cheese tastes super decadent, but fits into a healthy eating plan.
Prosciutto Wrap Ups
For a classy and crowd-pleasing pre-dinner nosh, wrap Weight Watchers Smoked string cheese with prosciutto, and serve with olives, crunchy breadsticks, strawberries, and aged balsamic vinegar.
Dynamic Duo
When you feel yourself heading towards an afternoon slump, pair Colby Jack cheese sticks with popcorn. The protein in the cheese offers a much-needed boost, while the fiber in the popcorn helps you feel fuller faster.
Click here to print now and save $.75 off any one Weight Watchers Cheese or Cream Cheese printable coupon!