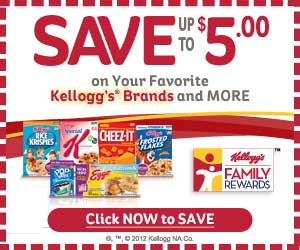 Get exclusive coupons and earn rewards from your favorite Kellogg's® brands with Kellogg's Family Rewards!
It's easy and free to sign up for Kellogg's Family Rewards™. Then you can enter codes, collect points, and earn awesome rewards and family fun! You'll also receive the latest and greatest benefits from Kellogg, like exclusive savings, great-tasting recipes, and special offers and promotions.
We have ANOTHER Kellogg's code!
PANCAKEFORPOINTS (25 points)
Here are the two codes I posted yesterday in case you missed them!
KFRISCRAZYFORYOU  (25 points)
ATASTEOFTRUELOVE  (50 points)
Plus here are some other codes you can try if you haven't entered them already:
KFRTHANKYOU50PTS 50 Points
MAGICOFBREAKFAST  20 points
EARNSWEETREWARDS  50 points
When entering codes that didn't come off products just click "Other" where it says "Where did you buy?"
Bonus Point Tip: Be sure to check your emails from KFR – they often contain Bonus Codes!  Last week I had a 500 point code in my email!