Twelve retailers are partnering up to offer 12 days of FREE shipping!
Today's FREE shipping retailer is Macys.com!  Click here to shop Macys.com and get FREE shipping TODAY ONLY!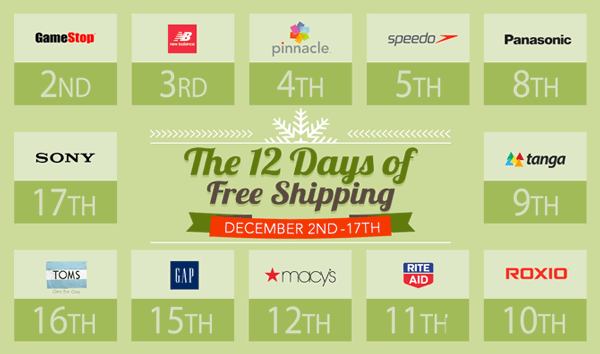 Here is the list of participating merchants:
Tuesday, December 2nd – GameStop
Wednesday, December 3rd – New Balance
Thursday, December 4th – Pinnacle
Friday, December 5th – Speedo
Monday, December 8th – Panasonic
Tuesday, December 9th – Tanga
Wednesday, December 10th – Roxio
Thursday, December 11th – Rite Aid
Friday, December 12th – Macy's
Monday, December 15th – Gap
Tuesday, December 16th – TOMS
Wednesday, December 17th – Sony
Don't forget you can find all the latest Christmas Shopping Deals by clicking here or  on the Christmas Deals button on the sidebar anytime you visit!