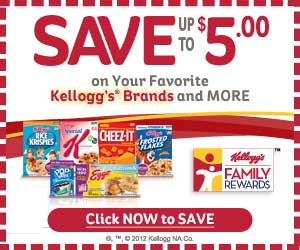 Get exclusive coupons and earn rewards from your favorite Kellogg's® brands with Kellogg's Family Rewards!
It's easy and free to sign up for Kellogg's Family Rewards™. Then you can enter codes, collect points, and earn awesome rewards and family fun! You'll also receive the latest and greatest benefits from Kellogg, like exclusive savings, great-tasting recipes, and special offers and promotions.
I just checked all these codes and they are all valid and you can rack up a TON of points right now!
EATMORECHOCOLATE (25 points)
WEHEARTSURPRISES (100 points)
HOORAYFORFREEPTS (100 points)
UGOTTALOVEABONUS (100 points)
3CHEERS4BONUSPTS (100 points)
FREEPOINTSFRENZY (100 points)

Some of these codes may be active too:
CEREALANDMILKABC (50 pts)
BROOKSTONESWEEPS (50 pts)
BACKTOSCHOOL2014 (50 pts)
GETFUELFORSCHOOL (20 pts)
AMAZINGSPIDERMAN (20 pts)
SPIDEYEXCITEMENT(20 pts)
I don't know the expiration on these so I would enter them ASAP!
Bonus Point Tip: Be sure to check your emails from KFR – they often contain Bonus Codes!  Last week I had a 500 point code in my email!
I just redeemed some of my points for (2) $1.50 off 1 Eggo Waffles coupons and (2) $.75 off 1 Kellogg's Nutrigrain Bars coupons!  You can print them OR if you have trouble printing (or are just worried they won't print – my computer can be finicky when it comes to printing from some sites) they will mail your coupons to you for no charge!  That's what I do.  I don't get them instantly, but the coupons are worth the wait!