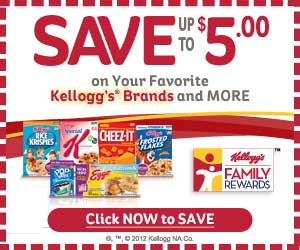 Get exclusive coupons and earn rewards from your favorite Kellogg's® brands with Kellogg's Family Rewards!
It's easy and free to sign up for Kellogg's Family Rewards™. Then you can enter codes, collect points, and earn awesome rewards and family fun! You'll also receive the latest and greatest benefits from Kellogg, like exclusive savings, great-tasting recipes, and special offers and promotions.
There is a new Kellogg's Family Rewards code FOURLEAFCLOVER25 to get 25 points  (exp 3/24/14)
Plus, enter FOUR codes into your account by 3/21 to get 400 BONUS POINTS!
After you sign up, here are some codes you can enter for more points!
KELLOGGSMEDAL20P            HOWITWORKS20PNTS
KFRFIBERPLUSPOLL               JOINKELLOGG2SAVE
KFRFREEGROCERIES
(Thanks Kayla for the tip about the 400 bonus points!)