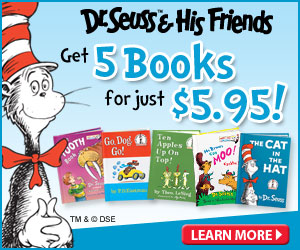 Dr. Suess books are classics that never go out of style!  Here's a great way to start up your collection of classics for your little ones – and just in time to celebrate Dr. Suess himself – his birthdate is March 2nd!
Get 5 Books for just $5.95 Plus FREE shipping!
Sign up today and get a FREE Backpack*
*while supplies last
Plus 2 Bonus Book Opportunities save 50%
Join Dr. Seuss & His Friends's today!
– Receive 3 new books each month
– Create lasting memories with the same classic stories you loved as a child
-Wacky and wounderful characters will engage & entertain your child and you
-Control your membership online
-Risk free. Cancel anytime…
-No Purchase commitment!
-High-Quality, hard cover editions
-Convenience of home delivery for less than $5 per book!
Sign up today!