If you read the blog a lot, you know that myself along with Buzzing the Day Away host a Facebook Hop every Thursday called Thursday's Train to Facebook.
We decided that one random participant that followed all the rules of the hop, would get a featured post on each of our pages!
So, without further ado, let me introduce you this week's featured blogger – Lisa, at Bless Others With Cards!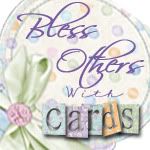 You may remember Lisa from a previous feature as the blogger behind Raising Future Leaders. But today she is being featured for her NEW blog Bless Others With Cards, (Don't worry, she still blogs at Raising Future Leaders too!)
Bless Others with Cards is a blog about the simple act of reaching out to others through one of the simplest, often overlooked and overshadowed, ways – by sending cards! I LOVE sending and receiving cards!
Lisa shares ways to begin connecting and sharing with friends and family through cards in personalized ways!
Please check out Bless Others With Cards and follow her on Facebook! Leave your link on her page and others can follow you back and she'll even give you a shout-out on her page to help you gain more followers too!
If you want to be a featured blogger, be sure to check back on Thursday and link up to the Thursday's Train to Facebook!