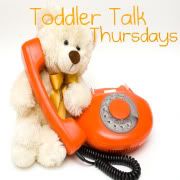 I have to admit that I don't have time to do some of the more "fun" blogger things. One of which are link-ups.
But this one seems simple, fun and relevant to me. So I'm going to try to do it consistently.
It's called Toddler Talk Thursdays. You can visit the host's post here.
If you've followed my blog for a while you know I have an almost 2 year old.
Today's topic is food! What is your toddler's favorite thing to eat?
Here are Bug's top ten foods:
10. Salmon Patties
9. Chicken Nuggets
8. Salad with ranch dressing or coleslaw (seriously!)
7. Cereal Bars
6. Chicken Quesadillas
5. Any kind of fruit cup – mandarin oranges, peaches, pears, applesauce
4. Green Beans
3. Fish Sticks
2. Yogurt, pudding or jello – any flavor
1. Bananas
I would declare this semi-healthy! He will also (usually) eat spaghetti, baked beans, corn and pizza (with veggie toppings!). Hot dogs are the only other meat he'll eat. Toaster waffles are a breakfast favorite. And Gerber Li'l Crunchies are a must have away from home! And forget the kid's meal at Chik-Fil-A. Get the boy a chicken salad sandwich!
What will he NOT eat? A PB&J sandwich or mashed potatoes. But he'll eat salmon, salad, chicken salad and coleslaw! Crazy, right?
And this picture shows my top piece of parenting advice: if you give your toddler spaghetti for lunch, you might as well let him top it off with chocolate pudding because he's a mess anyway!