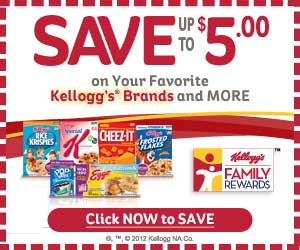 Get exclusive coupons and earn rewards from your favorite Kellogg's® brands with Kellogg's Family Rewards!
It's easy and free to sign up for Kellogg's Family Rewards™. Then you can enter codes, collect points, and earn awesome rewards and family fun! You'll also receive the latest and greatest benefits from Kellogg, like exclusive savings, great-tasting recipes, and special offers and promotions.
Here's a two new codes to enter for 50 points each!
ELVESLOVEBONUSES (exp ?)
DAYORNIGHTSNACKS  (Exp 10/13)
Some of these codes may be active too:
KFRDISCOVERYTOYS (50pts)
SNACKTIMESHUFFLE (100pts)
GOLITTLELEAGUERS (50 pts)
KELLOGGSBONUSPTS (25 pts)
HIMONEYSAVINGMOM (100 pts)
CEREALANDMILKABC (50 pts)
BROOKSTONESWEEPS (50 pts)
BACKTOSCHOOL2014 (50 pts)
GETFUELFORSCHOOL (20 pts)
AMAZINGSPIDERMAN (20 pts)
SPIDEYEXCITEMENT(20 pts)
I don't know the expiration on these so I would enter them ASAP!
Bonus Point Tip: Be sure to check your emails from KFR – they often contain Bonus Codes!  Last week I had a 500 point code in my email!
I just redeemed some of my points for (2) $1.50 off 1 Eggo Waffles coupons and (2) $.75 off 1 Kellogg's Nutrigrain Bars coupons!  You can print them OR if you have trouble printing (or are just worried they won't print – my computer can be finicky when it comes to printing from some sites) they will mail your coupons to you for no charge!  That's what I do.  I don't get them instantly, but the coupons are worth the wait!