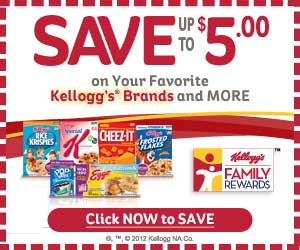 Get exclusive coupons and earn rewards from your favorite Kellogg's® brands with Kellogg's Family Rewards!
It's easy and free to sign up for Kellogg's Family Rewards™. Then you can enter codes, collect points, and earn awesome rewards and family fun! You'll also receive the latest and greatest benefits from Kellogg, like exclusive savings, great-tasting recipes, and special offers and promotions.
Here's a NEW code to enter for 100 points!
RELAXITSLABORDAY  (exp 9/8)
And I posted this one a few days ago but I JUST entered it and it's still good for another 50 points!
KFRLABORDAYBONUS  (exp ?)
And I hope you listened to me the other day when I told you to start saving your codes!  For THREE days only (September 2nd-4th), enter any 4 product codes and get 400 Bonus Points!   AND you can do this bonus offer TWICE!  8 codes will get you 800 points!   I've been tearing the codes out of boxes and stacking them up on my desk to wait to be entered on 9/2 for my bonus points!  I'll be cashing out for coupons real soon!
Check these codes to make sure you've entered all them into you account too!
KELLOGGSBONUSPTS (25 pts)
HIMONEYSAVINGMOM (100 pts)
CEREALANDMILKABC (50 pts)
BROOKSTONESWEEPS (50 pts)
BACKTOSCHOOL2014 (50 pts)
GETFUELFORSCHOOL (20 pts)
AMAZINGSPIDERMAN (20 pts)
SPIDEYEXCITEMENT(20 pts)
I don't know the expiration on these so I would enter them ASAP!
Bonus Point Tip: Be sure to check your emails from KFR – they often contain Bonus Codes!  Last week I had a 500 point code in my email!
I just redeemed some of my points for (2) $1.50 off 1 Eggo Waffles coupons and (2) $.75 off 1 Kellogg's Nutrigrain Bars coupons!  You can print them OR if you have trouble printing (or are just worried they won't print – my computer can be finicky when it comes to printing from some sites) they will mail your coupons to you for no charge!  That's what I do.  I don't get them instantly, but the coupons are worth the wait!