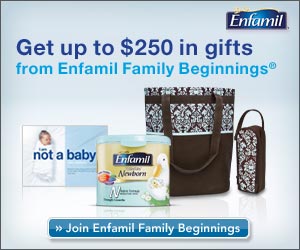 If you or someone you know is expecting, you'll want to check out Enfamil Family Beginnings!
Trust me, you want to be on Enfamil's mailing lists! They send out full sized products and great coupons to their mailing lists!

Join Enfamil Family Beginnings®
Enjoy special offers, savings and support through pregnancy, your baby's first year and into toddlerhood.
Register for Enfamil® Beginnings today. Get up to $250 in Free Gifts including expert advice and nutrition information, Enfamil® samples and discounts.
More Baby Savings: Check out more in the BABY SAVINGS CATEGORY  for more deals!