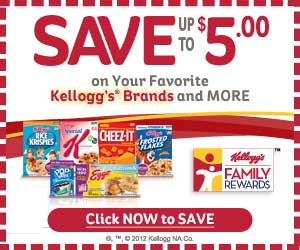 Get exclusive coupons and earn rewards from your favorite Kellogg's® brands with Kellogg's Family Rewards!
It's easy and free to sign up for Kellogg's Family Rewards™. Then you can enter codes, collect points, and earn awesome rewards and family fun! You'll also receive the latest and greatest benefits from Kellogg, like exclusive savings, great-tasting recipes, and special offers and promotions.
I redeem some of my points for $1.50 off EGGO coupons because we love waffles!
Here is a new Kellogg's Family Rewards code!  Enter the code FIRSTDAYOFSUMMER to grab your 50 points!
After you sign up, here are some codes you can enter for more points!  I just checked all of these and they are still valid codes!  Hurry and enter them!
CELEBRATEOURDADS – 50 points
CRAZYGOODCONCERT – 20 points
TWITTERIFICBONUS – 25 points
EARNGREATREWARDS 20 points
GRAINSDAIRYFRUIT 50 points
KELLOGGSFREEBOOK 50 points
HOWITWORKS20PNTS 20 points

Thanks The Coupon Challenge!