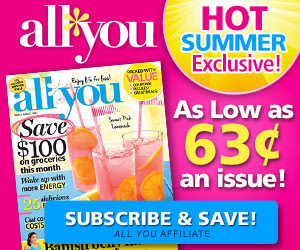 If you missed out on this fantastic deal, it has been extended for ONE more month!  Now through 3/31, Get a full year of ALL YOU for only $5!
This is the absolute lowest price EVER offered for a full year subscription for, take advantage of this amazing limited time offer now! Get 12 issues for only $5, that is less than $0.42 per issue! The total savings from this month's coupons will more than pay for the subscription.
Here's an example of the coupons you can find in each issue:
Offer ends 2/28!